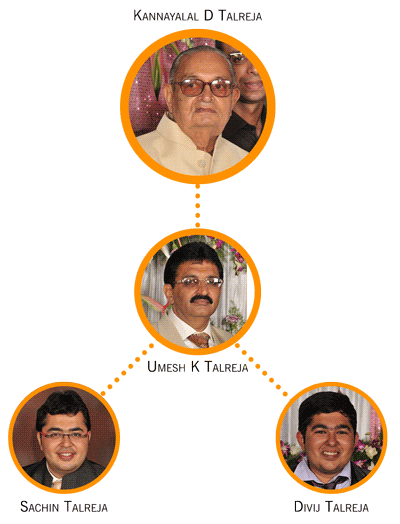 Sachin Light House was started by Mr. Kannayalal D Talreja who was the founder of the firm in 1981. He was the brain behind the entire business who put in all his efforts starting from a small electrical outlet all the way to becoming a strong dealer for Philips. Slowly the company saw the progress and scope and he was finally made the sole distributor for Vellore district
The firm was then taken over by Mr. Umesh K Talreja, his son, who expanded the business. He marketed the whole firm which led to expansion of distribution range to a radius of 145kms. He lead the business for almost 35years
Then came the two brothers Sachin Talreja and Divij Talreja. Now that the base was set Sachin was working with TCS for a period of two years after which he decided to join Business.
Vellore being set he had an opportunity to become a distributor for Philips lighting in Bangalore city. After crossing a lot of milestones and a lot of reluctance from the market he set up a good strong hold in the market in Philips Lighting and then later also took up the Racold water heater distribution.
After Divij Talreja completed his education he directly entered business and took up the distribution of Philips Home appliances and Philips Audio Video and the media range. He later opened up a Philips exclusive light lounge on Richmond Road.
So in totality, Sachin Light House deals with the following products: